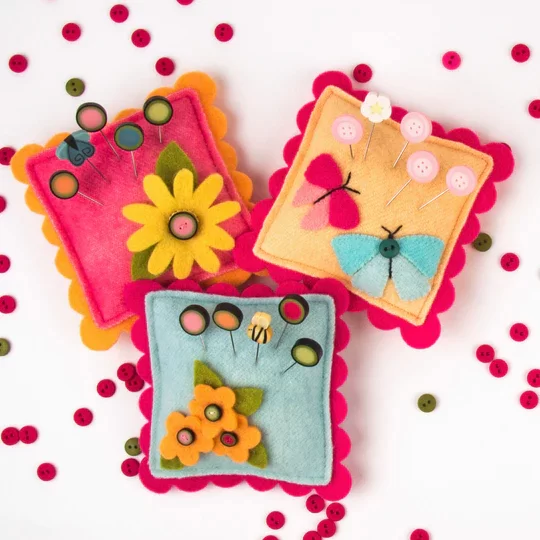 The $90 class & kit fee includes ONE class on the date of your choice with the COMPLETE
KIT featuring beautiful pre-felted wool and floss to make a pre-cut scissor holder kit, a pre-cut
mug mat, and SIX pin cushions!! The kit includes the complete set of patterns to make a total of
TWELVE pin cushions!! Remember, these make FABULOUS gifts!!!
At EACH SESSION, you will receive reusable freezer paper templates ready to iron on
the wool to cut out and assemble during the session (NO TRACING required!!). Separate class
sessions are shown below so register for the session that appeals most to you – OR you DO
have the option to take additional sessions. Each additional class session is $15 and will
include additional instruction with reusable freezer paper templates for the patterns being made
in that session. A door prize drawing will be held at each session!!!
EACH SESSION is limited to 8 students and a MAXIMUM of 16 complete kits will be
available. You must register and prepay for EACH SESSION you want to register for at A
Royal Quilt Shoppe, located at 82 Cloverleaf Dr, Longs, SC 29568, open Tuesday through
Friday 10 a.m. to 3 p.m. and Saturday 10 a.m. to 1 p.m. Phone 843-399-8544. Kit supplies will
be ordered on May 15 so register SOON or you will miss out. Remember, registration is first
come/first served so sign up soon as this has been a HIGHLY requested set of classes!!
NOT included in kits are the "recommended wool roving" for stuffing (or another
stuffing of your choice) for the pin cushions, and the additional floss and wool for assembling
the additional pin cushion patterns included as well as the optional embellishments of the
handmade Just Another Button Company mounted stainless steel sewing pin sets. The
assortment of three pins, packaged in a clam shell (including shipping and tax) are available by
preorder for $15 for a set of three or $19 for a set of 5 (Java, Carrot Patch, or Fun in the Sun)
including shipping and tax. See examples below and at the shop. These can be ordered at the
time you pay for your class (all class sessions must be pre-paid no later than May 15 in order
for supplies to be ordered and received in time for the start of the first class session on June 7).
For each class, you need to bring SHARP scissors, a large eye crewel embroidery needle,
Sessions available and the project at each session:
June 7
Scissor holder and Seaside AND pin cushion
June14
Seaside Mug mat and
21

-

Two pin cushions – one
June 28

-

Two pin cushions – one bunny
Examples of the projects (the Seaside mug mat and seaside pin cushion are
exclusively designed projects and will be shown at the beginning of each class
session). Actual colors of the wool may vary. Pins shown are not included.
| | |
| --- | --- |
| Skill Level: | Beginner |
| Skill Details: | |